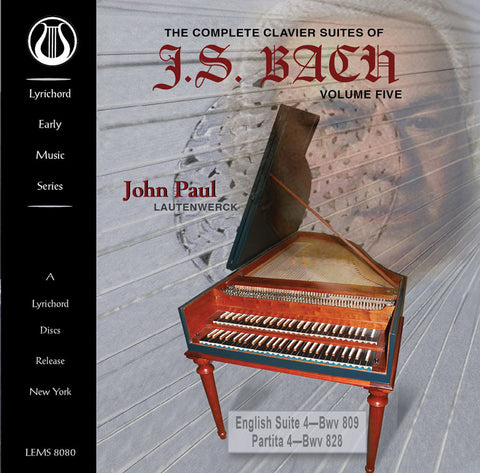 J.S. Bach: The Complete Clavier On Lautenwerck Vol. 5 - English Suite 4 (BWV 809) and Partita 4 (BWV 828) DOWNLOAD ONLY LEMS-8080
---
---
Digital Download available from your favorite site including
Download free liner notes below (Mac users use Ctrl + click)
About Volume Four from Musicweb International, April 2011
" ...Specialist John Paul has recorded this CD, the fourth volume in a series from Lyrichord which will eventually extend to many of Bach's keyboard works, using a single peau de buffe stop … one quilled in soft leather which brushes the string. This facilitates subtle, but completely audible, differences of dynamic according to the speed of touch. The quiet nature of the sound which the Lautenwerck makes should not be overstated. This recording was closely miked and is designed to be heard at low volume, as is the case with clavichord recitals. But there's nothing effete, underwhelming or even particularly delicate about the sound. In fact, it simply resembles a lute … listen to the Sarabande of BWV 811 [tr.4]: it's measured, intimate, careful but neither shy, nor apologetic.
This must be borne in mind when listening to this excellent set of interpretations of Bach's Clavier Suites as must the fact that the mechanics of the instrument - its attack, release, levers and so on - all contribute positively to our appreciation of the act of performance by Paul. His phrasing, tempi, expression and understanding of the relative speeds, lingerings, accelerandi and 'local' intricacies - the way in which the smaller musical motifs are developed - are all ideal.
It's true that Paul is in no rush. He plays in the spirit of the influence exerted by French and Italian traditions during Bach's lifetime. Although these works do not exhibit the jauntiness and sprung elegance of the pure French or galant styles, there is a sensitivity about Paul's playing which has enough robustness to temper any threat of spurious gentility. The result is a series of very human Bach movements. Such an approach is particularly appropriate since it reinforces the sense of Bach first being curious about the music that influenced him, then absorbing its idiom, and finally making it his own. The intimacy and restraint of the Lautenwerck support such an approach well.
We know that Bach expected - probably even intended - such works to be played on various plucked instruments … the autograph of BWV 998 has 'pour le luth o cembal'. This recording makes an excellent contribution to our experience of what is - in effect - the best of both worlds. We also know - as the short but informative liner-note says - that Bach thought particularly highly of his Clavier works. Among the few of his works which he had printed, these take up the most room.
Since many good recordings of these keyboard works exist, it is the extra dimension of hearing them on this instrument that recommends this CD - and the others in the series. Were the performances to be less accomplished, their curiosity value would overtake the deeply satisfying experience of immersing yourself in the lines, textures, dynamics and almost primal world of the music's counterpoint and harmonic invention. As it is, these are accounts to return to and appreciate as fully representative of Bach's infinite creativity."
Mark Sealey
MUSICWEB INTERNATIONAL
(read full review at MUSICWEB INTERNATIONAL
About the exclusive use of the Peau de Buffle stop
"I think the thing about John Paul's Bach is that if you deprive yourself of the more usual means of expression, either you flop or you find some new avenue of expression. Actually punctuation, almost imperceptible breaks in the phrasing, and the "scanning" (Latin verse if you ever did it), which relies on shorts and longs, i.e. staccato notes and held notes, can if properly handled give you all the expression you need, expression in the sense of guiding the listener subtly through the different episodes and where it exists, the counterpoint.
It's so different, almost like a totally different instrument, which of course always shows musical detail in a new light. John Paul's self-imposed limitation compels him to bring out expression and clarity of line in new ways, being deprived of the piano touch, or the harpsichord's registration possibilities and terrace dynamics. Impossible one might think, but he seems to manage it. It's also very relaxing listening."
Michael Meacock co-founder of the Oryx Recordings label,
editor and contributor  Baroque Music.org , and The Baroque Music Collection,
In this recording, John Paul continues in his historic series of Bach performed on the lautenwerck Peau de Buffle stop. The lute-like sound of gut strings gently brushed by soft leather quills displays both the intimacy and virtuosity of these masterworks. This time Paul performs Bach's English Suite 4 — BWV 809 and Partita 4 — BWV 82. About John Paul's last installment (Volume Four), the British classical review site Music Web International wrote "...these are accounts to return to and appreciate as fully representative of Bach's infinite creativity." Paul's series of Bach on lautenwerck is fast becoming the most exciting take on the master's works for clavier in the last fifty years!
Tracks:
English Suite 4 — BWV 809
 1 Prelude 04:54
 2 Allemande 03:56
 3 Courante 01:52
 4 Sarabande 03:26
 5 Minuet 04:06
 6 Gigue 03:36
Partita 4 — BWV 828
 7 Partita 4 - 1 Ouverture 07:18
 8 Partita 4 - 2 Allemande 10:24
 9 Partita 4 - 3 Courante 05:02
10 Partita 4 - 4 Aria 02:40
11 Partita 4 - 5 Sarabande 03:32
12 Partita 4 - 6 Menuet 01:52
13 Partita 4 - 7 Gigue 05:14


---
We Also Recommend
---