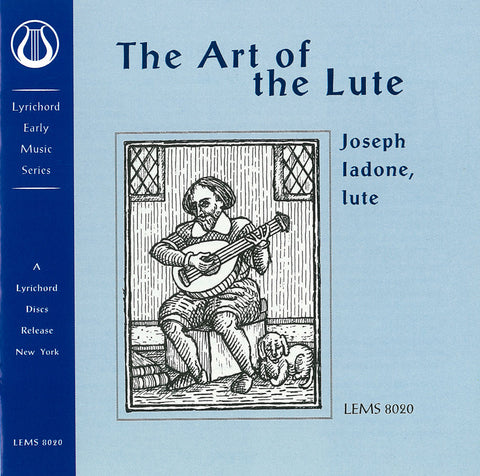 The Art of the Lute - Joseph Iadone DOWNLOAD ONLY LEMS-8020
---
---
Digital Download available from your favorite site including
Download free liner notes below (Mac users use Ctrl + click)
"He was one of the most thrilling virtuosos to be heard in a lifetime of concert-going." -Benjamin Ivry, The Wall Street Journal, April 27, 2004

When news of the passing of the great lutenist Joseph Iadone was released on April 20th, 2004, at the age of 89, it created a flood of interest in this pioneering American master. Benjamin Ivry wrote a moving tribute to him in the Wall Street Journal and The New York Times, also carried a tribute. Yet from the time he first switched from playing stand up jazz bass to lute over sixty years ago, until the day in 2003 that he finally donated his lutes to his beloved Yale, Joseph Iadone was ever a humble and soft spoken man, who brought the thrill of music and music making (and particularly Renaissance music making) to the hearts of countless fans and students. Remarkably, he was primarily self-taught, and studied Elizabethan techniques he found in his own research of historical treatises and manuscripts.

"The Art of the Lute" is a recent collection by this legendary master lutenist, and is the only solo Iadone recording available anywhere. He received bachelor's and master's degrees from the Yale School of Music, (the only student in the history of the University to do so without having graduated high school!) - was a member of Yale's Collegium Musicum, a group that was among the first to perform Early music on actual historical instruments in the collection of the Metropolitan Museum of Art, with the collaboration of the museum's Dr. Emanuel Winternitz. A protégé of composer Paul Hindemith, the great Iadone was a towering figure in the early years of the American Early Music Movement, recording and performing with Noah Greenberg's New York Pro Musica, Russell Oberlin and others (See LEMS 8003 Cantigas de Santa Maria). Iadone taught many accomplished musicians who have gone on to prominence in classical and early music today, and over the years has taken on an almost mythical standing as an extraordinary Elizabethan-style lutenist. These recordings were made over the last twenty years, both in the studio and in Mr. Iadone's Connecticut home and have never been released before in any form. Solo pieces, duets and even trios in which Mr. Iadone plays all parts, are a feature of this unique recording which includes works by Josquin des Pres, Orlando di Lasso, Thomas Morley, Antoine Brumel, and others.

Tracks:
1. Three Pavans - 4:05
2. Recercar - 2:32
3. Fantasia for vihuela No 11 - 3:19
4. Fantasia for guitar - 2:48
5. Tastar de corde, Recercar dietro, for lute - 2:10
6. Fantasia No 22 (El maestro) - 3:24
7. Diferencias (7) for guitar on "Guárdame las vacas" - 2:09
8. Fantasia for vihuela No 10 - 2:03
9. Fantasia - 3:27
10. Fantasia - 1:57
11. La Rondinella, fantasia a 2 - 1:26
12. Torre de la nina - 1:39
13. Fantasia - 1:47
14. Dime, robadora - :55
15. Allon, Gay, Gay, Gay Bergeres for 4 voices - 1:27
16. Die Katzenpfote - 1:30
17. Danza a tre "la alta" - 2:22
18. Ignacio es tan bella - :50
19. Mon Coeur se recommande (Marot) (Mon Coeur se rend a toi; Qui laboure champ ou vigne), chanson for 5 voices, B. xiii/15 (S. xiv/15) - 1:45
20. Credo, for three voices - 2:11
21. Work(s) - 1:17
22. Si dormiero, in 3 parts (textless, playable by instruments; also known as "Guretzsch") - 1:45
23. Pavane ("Si Par Souffrir") - 2:15
24. Helas que devera, chanson for 3 voices - 1:04
25. De tous biens pleine, motet for 4 parts - 1:04
26. Medley - 2:13
Additional Information
Tributes to the Late Joseph Iadone from students and friends can be read on this website.
---
We Also Recommend
---