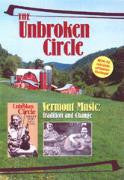 The Unbroken Circle: Vermont Music - Tradition & Change
---
---
Produced and directed by Mark Greenberg, "The Unbroken Circle" traces the development of traditional country music in Vermont from unaccompanied ballads through Franco- and Anglo-American fiddling to radio cowboy bands and contemporary square dancing. The documentary tells its story through the words and music of a dozen Vermont musicians, historic photos, and location videography.
The musicians include Norman Kennedy, Margaret MacArthur, the Hurstins, the Pony Boys, Ron West, Wilfred Guillette, Cordelia Cerasoli, Floyd Brown, and Al Cadorette. 
The Vermont Vanguard Press called "The Unbroken Circle" "a must-see for all who care about traditional music."
Folklorist Eleanor Ott wrote that it is "An unsentimental, crisp, perceptive film of the highest caliber."
Booklist described it as a "loving tribute to a bygone era."
"A fine documentary film for viewing at home or in the classroom and deserves to take its place with other well-done films about folk music." -Bruce E. Baker, Dirty Linen
An excellent resource for preserving, promoting, and documenting traditional music ..."-Curriculum Administrator
"Greenberg's dedication to preserving, promoting, and documenting Vermont's traditional music has made him Vermont's unofficial folk historian-in-residence." -Will Lindner, The Barre-Montpelier Times Argus
The DVD version contains the original hour-long program along with 52 minutes of complete performances and new songs. The DVD also includes a Study Guide (.pdf on disc) for classroom use.
The film was featured in the 2005 Green Mountain Film Festival 
---
We Also Recommend
---